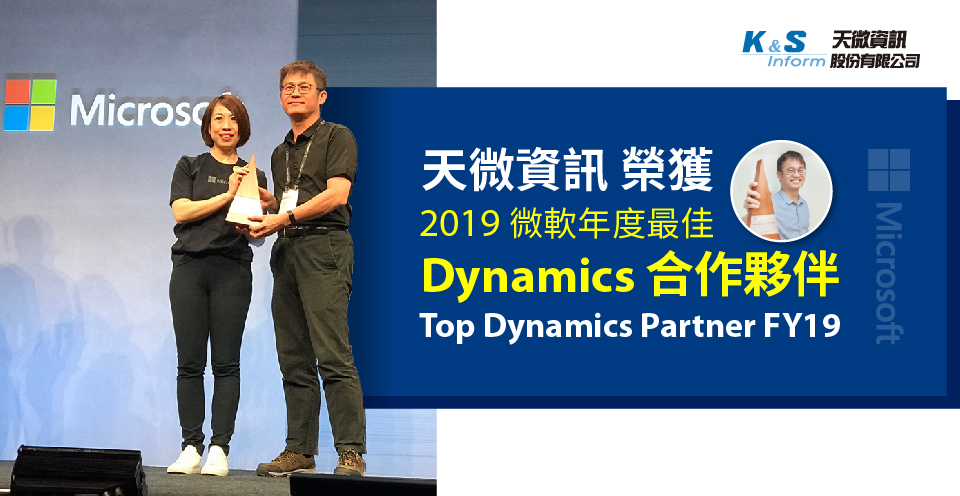 Congratulations! Knowledge & Strategy Information Co., Ltd (K&S Inform) was awarded "Microsoft Top Dynamics Partner FY19" at Microsoft Inspire 2019 Worldwide Partner Conference—Top Dynamics Partner FY19」award!

Step by step, K&S Inform from Microsoft NAV, AX, to Microsoft's latest cloud ERP – Microsoft Dynamics 365 Business Central / Finance and Operations; As Microsoft develops state-of-the-art ERP technology, develops the most suitable ERP professional consultants, and invests little by little in helping enterprises to apply ERP to their business operations.

We don't have fancy words, only sincere service. This sincere let us in 2014 the first from Microsoft customers affirmed: won the "2014 Taiwan Microsoft Partner Service Hero Award first place", a must go through the Microsoft layer test, customer kind of affirmation of the honor.

We are not relaxed about it, and the affirmation of our customers is the driving force behind us. In 2018, Microsoft announced that Microsoft ERP has entered the cloud-wide era, releasing the latest cloud ERP platform,Microsoft Dynamics 365 Business. Tianwei Is the first Microsoft partner in Taiwan to pass a Microsoft certification to Chinese and localize Dynamics 365 BusinessCentral Cloud ERP.

Technology, consulting professional, service enthusiasm. "Microsoft Dynamics Partner of the Year 2019"- This affirmation from Microsoft once again gives K&S Inform all staff the power to advance. We will keep this honor in mind, but the glory can only be one day, because next we will give this honor to us, to give back to the current and future customers of the information. Uphold the positive, active, efficient service concept, so that professional sky micro information ERP team, for your enterprise to break through the traditional framework, activate the enterprise process, inject new energy into the operating thinking.