Microsoft Dynamics 365 Talent (now renamed as Dynamics 365 Human Resources) provides HR resources teams and HR managers with the tools they need to identify and hire the best candidates to modernize talent recruitment, recruitment tracking, and the employee's on-board process. Assist HR in finding the most effective and influential employees, providing the information and training needed to get on the job, and retaining talent.
Dynamics 365 Talent:Attract
Use Dynamics 365 Talent: Attract and LinkedIn to find the right person, create a shortlist of candidates, and offer hiring conditions after an interview. Give hr resources teams a better grasp of the entire recruitment and hiring process.
Talent Recruitment Transformation
In-line recruiters, managers, and interviewers to gain a more efficient and quick understanding of current recruitment or hiring.
Use LinkedIn to find the right person
In addition to using the HR website or through the human resources website and the general recruitment method, use RSC to seamlessly access LinkedIn Recruiter and Dynamics through LinkedIn And Dynamics, the world's largest talent market, via the online link 365 Talent: Real-time access to the latest talent information, recruiters and hiring managers can now save time, achieve better common work, and manage the recruitment pipeline more effectively.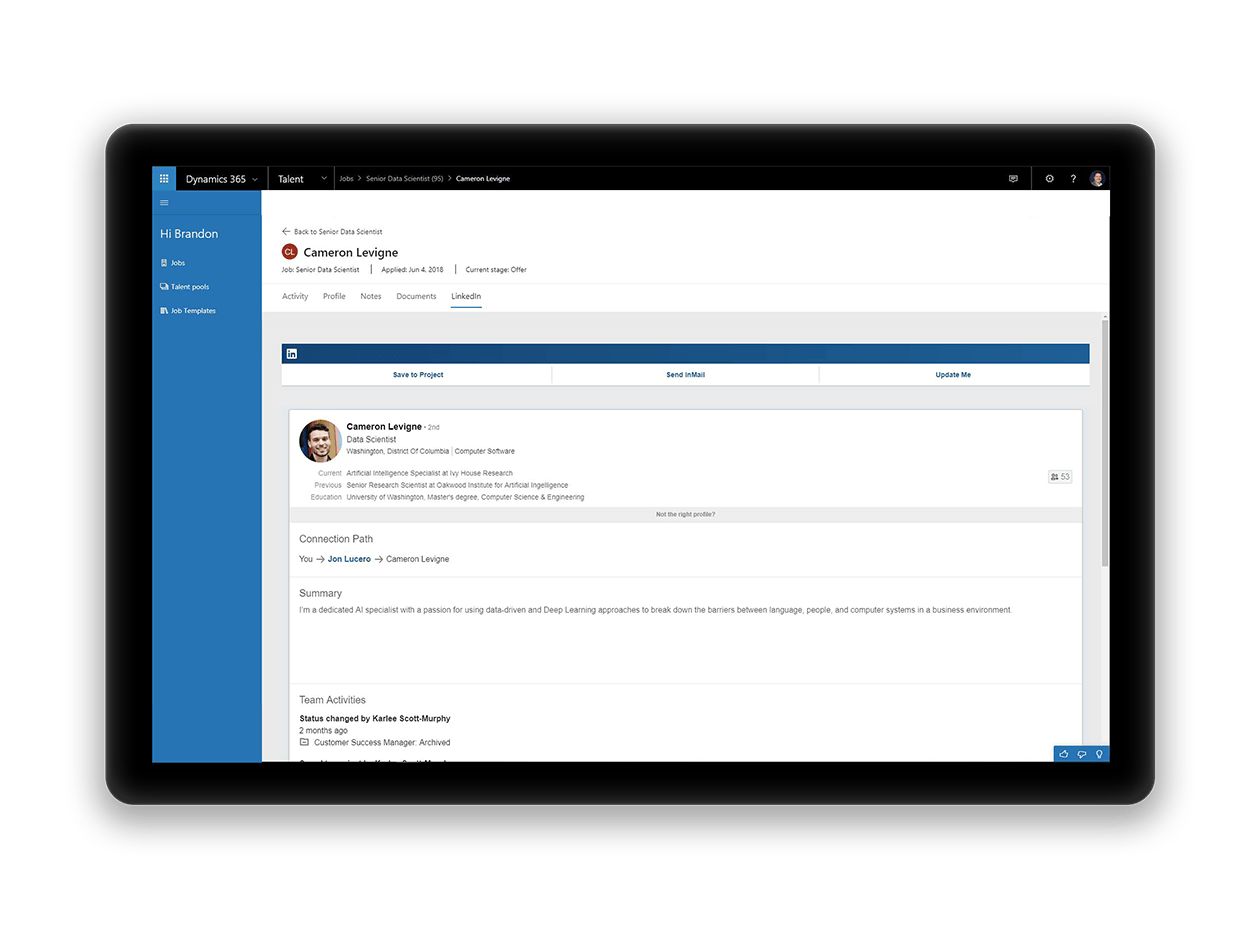 Streamline the entire interview process and dramatically reduce hiring times.
Integrate Office 365 to allow recruiters to automatically schedule interviews for the right person for the company more quickly.
Integrate Skype to easily interview people around the world without spending too much on hiring.
Only hiring managers can view action-like comments to ensure that you receive input from everyone on the interview team and not be misled by bias.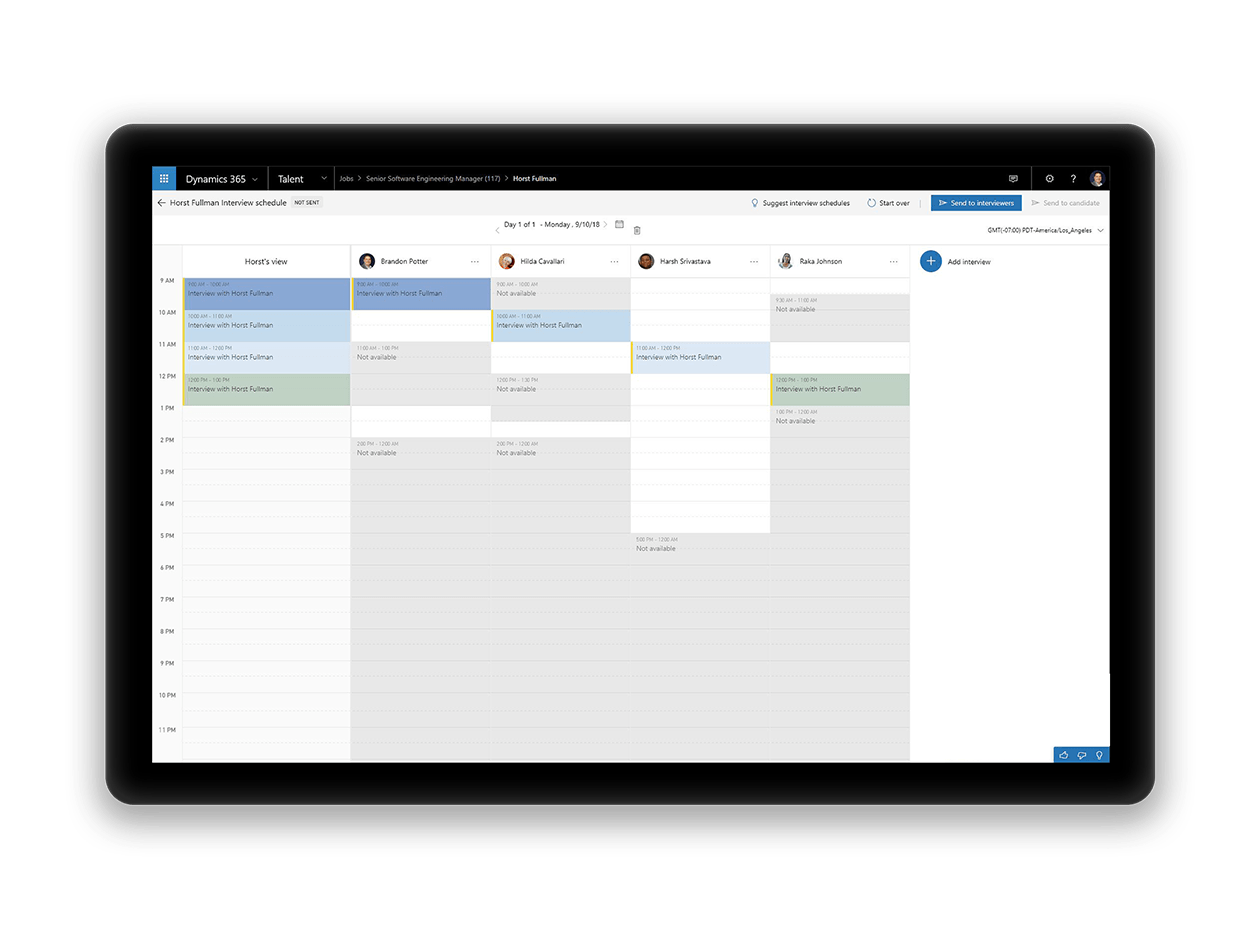 Speed up the delivery of Offer
With simplified contract management, offer more accurate and fast Offers to candidates that are suitable for the company. The work processes, templates, and approval processes that can be set up help ensure that hiring managers, recruiters and human resources specialists can work together effectively to propose attractive contracts.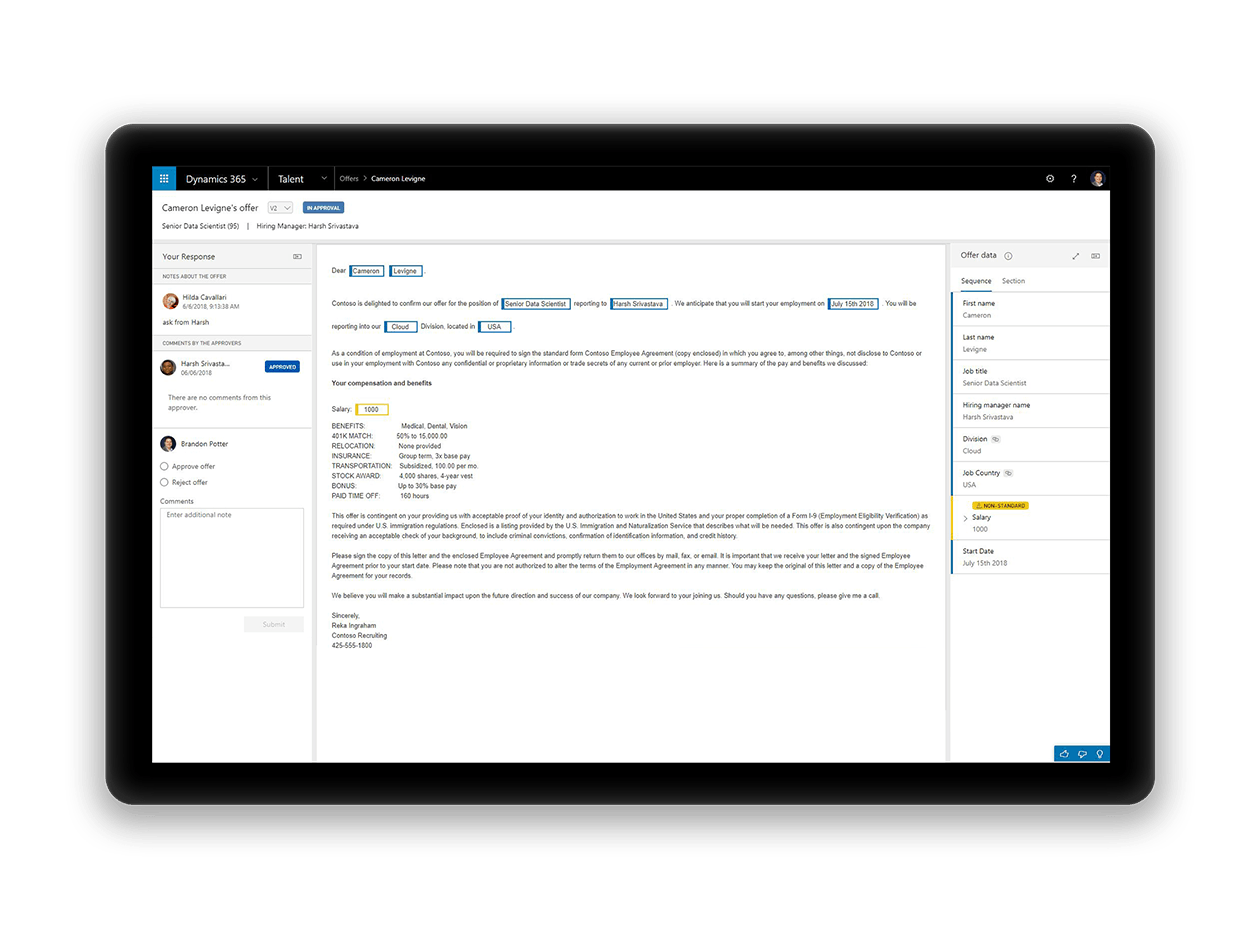 Dynamics 365 Talent: Onboard
Use Dynamics 365 Talent: Onboard brings new recruits quickly to the ground, gives new team members a welcoming, intimate and successful atmosphere, and simplifies administrative operations to accelerate the impact of talent.
Use personalized onborad guidelines to get new employees into the situation faster for their role from the first day of their tenure. Use the in-house template to establish a confirmation list, quickly complete the background data survey filling, withholding vouchers, payroll account information and other administrative work.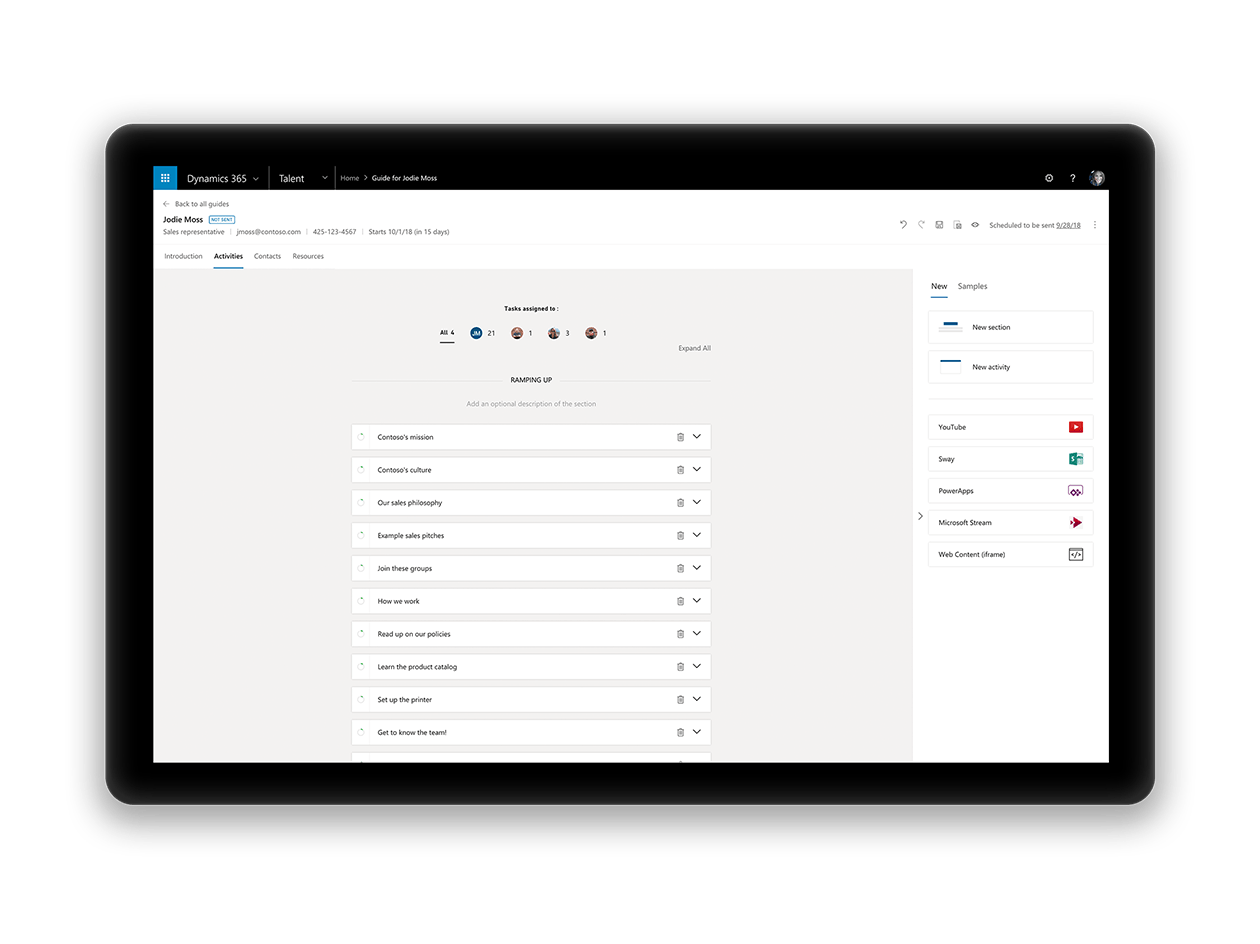 Match defined roles, responsibilities, and goals to ensure that new recruits are focused on the company's priorities. Provide company information, training resources, organizational structure, and browse information across different departments to speed up people's efforts.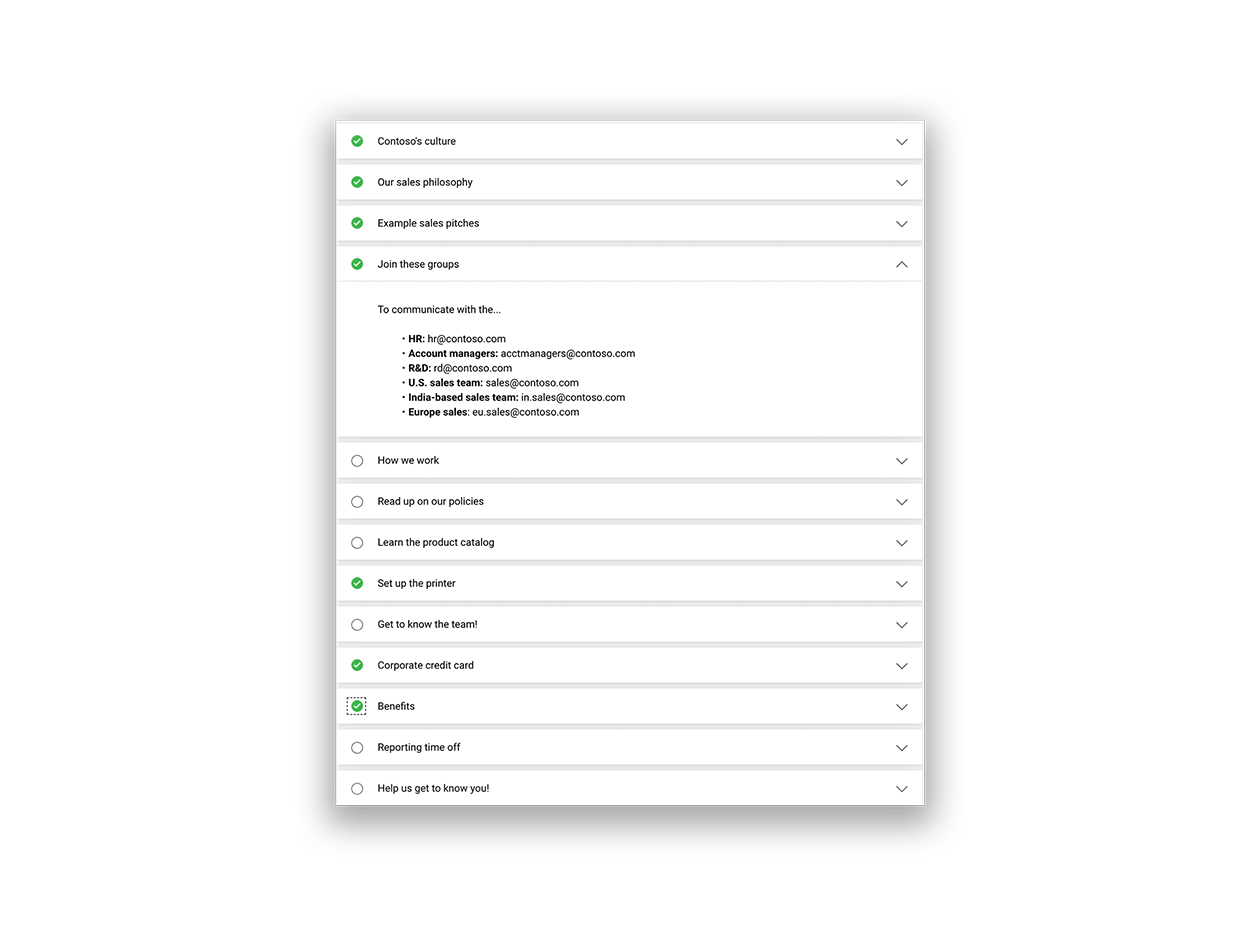 Promoting synergies among departments
Team members from other departments can contribute resources and increase tasks in the in-service guide to ensure that new recruits have the resources they need to adapt quickly and unhindered to their new positions.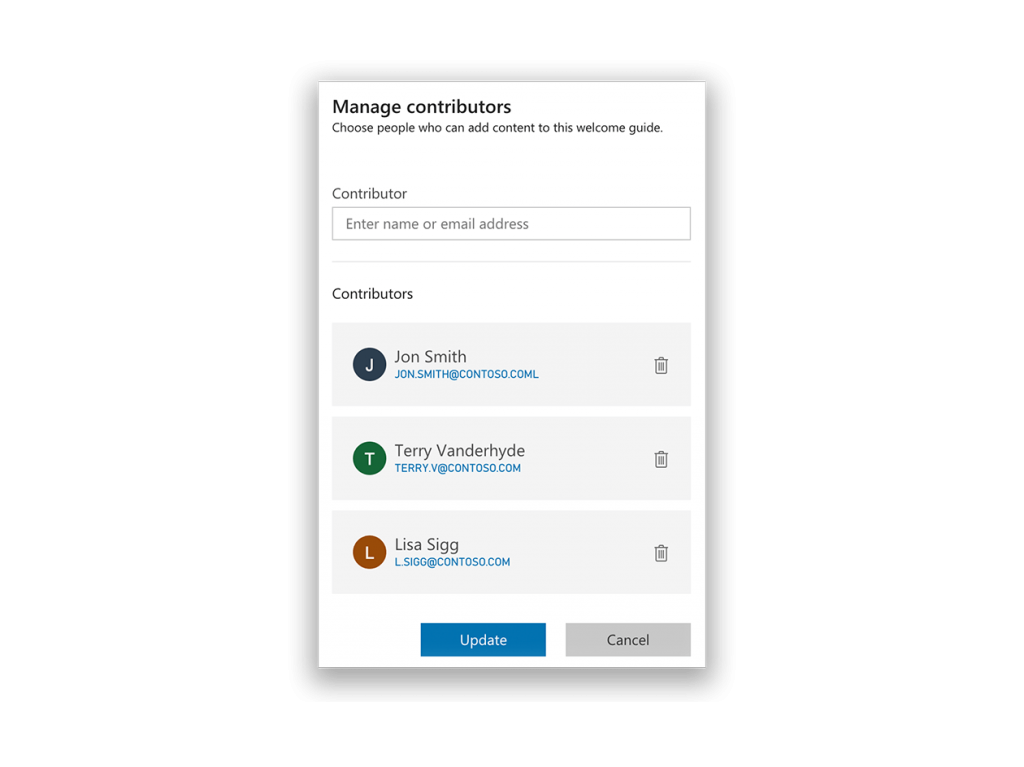 Dynamics 365 Talent: Core HR
Enable managers and employees to apply Core HR capabilities in one place, streamline work processes, and build plans that optimize workers, create business impact, and drive a resilient and high-performing work culture.
Empower managers and employees
Develop self-help and teamwork skills
Allow managers to make changes to behavior or goals (e.g., to require employees to change their work goals) without human resources involvement, simplify administrative work, and make time more efficient to advance strategic plans.
Match career planning to reduce turnover
Encourage employees to offer their desired career plans, such as setting higher skill standards and executing, and tailoring their own career goals and opportunities to their own
Improve performance and increase response
Give managers the ability to build high-performance teams. Provide real-time data on your organization, track achievements, identify problems, and take immediate actions that will optimize your team's impact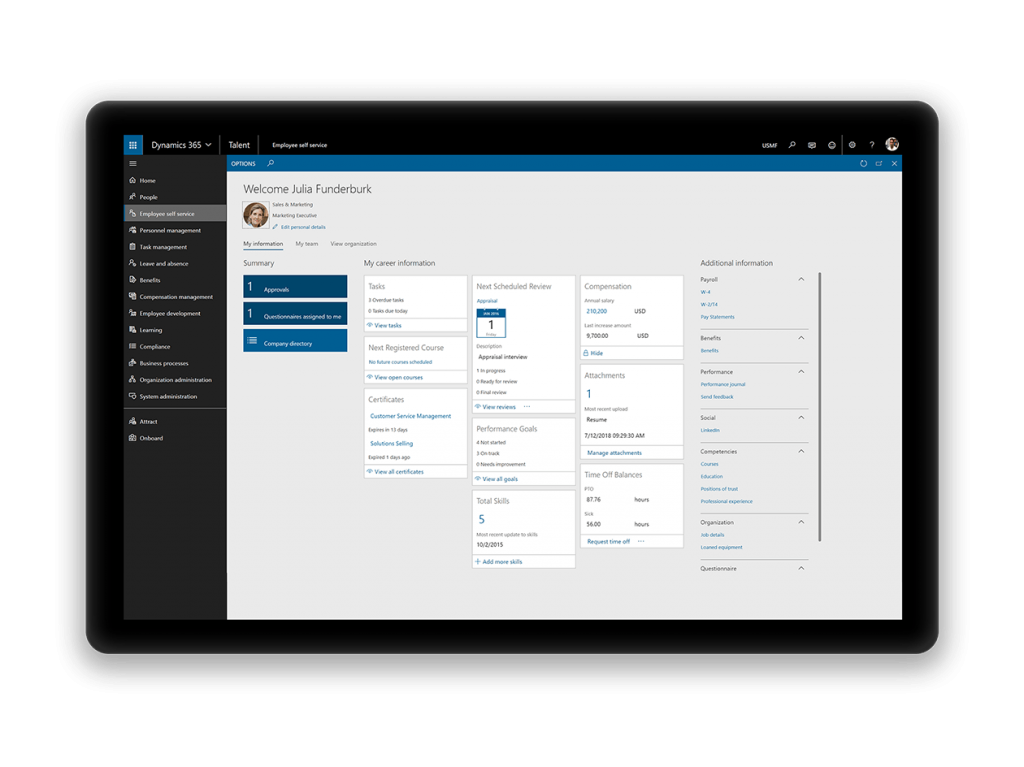 Strengthen your Core HR program
Redefining welfare management
Share simplified guidelines across the company to manage open registrations. Adjust benefits at any time, as needed, and issue updated guidelines. Use a common consolidation architecture to improve provider relationships and reduce the risk of errors.
Improving salary management
Establish reasonable salary recommendations that meet the defined guidelines. Adjust individual or person salary in advance through sandbox environmental testing and ensure that the process is correct before it is approved and distributed.
Simplify separation and absence reports
Define separation and absence guidelines, including flexible dates and subsequent rules. Provides selective calendar support through simple and direct input. Increase efficiency with input and approval delegation.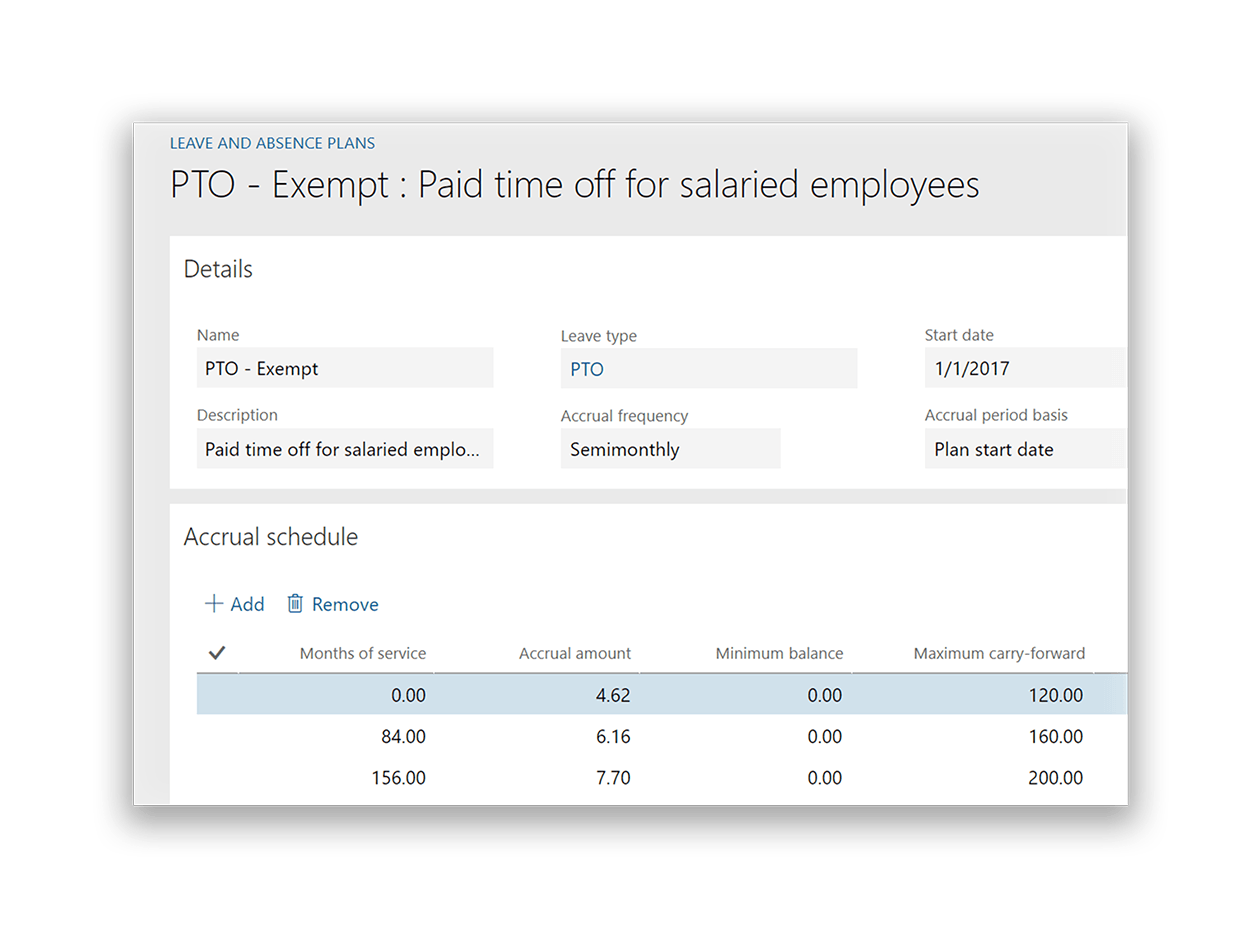 Improve collaboration and sharing in-depth analysis
Leverage HR impact from any device, anytime, anywhere
Improve communication, collaboration, and responsiveness from any device with secure employee data access capabilities, including feature-rich dashboards.
Enable Dynamics 365 Talent consolidation, partner applications, and your existing systems with common data platforms