Kaohsiung Airport Catering Services (KACS) implemented ERP system, seeing efficiency and transparency upgraded
Highly flexible, Microsoft Dynamics NAV caters to needs of both manufacturing and catering services
"After computerization and standardization, manpower can be focused on more valuable tasks. For instance finance department will not be limited to account settling.Conducting finance-related forecasts, turning capital into profit are more important things.Although management of an enterprise cannot rely solely on computerization, but every managerial judgment requires support from data and computer information.The key is to incorporate judgment with management."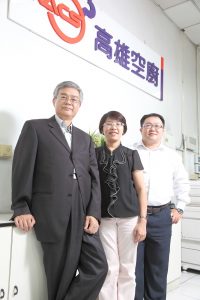 As the only airport catering company supplying to Kaohsiung International Airport, KACS has very diversified management strategy. With its airport catering plant 1, Hsinchu-Miaoli plant 3 and business development department, KACS not only caters to in-flight meals but also supplies to 7-11 for fresh food in Hsinchu and Miaoli areas as well as for its salad products all over Taiwan. Apart from these, KACS also owns over 10 sales points in food courts of various department stores.
With a special business model that falls between service and manufacturing industries and having as many as 8-9 SOPs, KACS in the past was only able to computerize its systems in limited way, and functions not compatible to each other created extra burden on operations. A migration to ERP system under Microsoft Dynamics NAV enables coordinated operations from purchase requisition, purchase to payment application, and also articulation between each step. Account settling cycle is also shortened from monthly to weekly basis, while monthly settling can be completed within 3 days.
KACS General Manager Lee He-Yuan points out that "the shorter the account settling cycle and the longer lead time for managers to react, the better. In the past, monthly business conditions and costs are available only at the end of each month, leaving almost no time for policy making. Now, data is obtained in the first week, measures taken in the second week, improvement made or issues identified not resolved in the third week. As long as continual attempts for improvement are being made, positive results can definitely be obtained in the fourth week. In this way, stability in the company's revenues can be guaranteed, free of sudden ups and downs."
JIT challenges from 400 BOMs
As a player in the catering industry, KACS has daily production and sales but without inventory. However, in-flight meals and fresh food are both prepared in centralized kitchens, the production process of which is similar to that in the manufacturing industry. Production based on BOM (bill of materials) requires JIT (Just in Time) model. Cost control must be done along the production line in order to prevent waste of ingredients. The main challenges in implementing ERP system thus mainly come from the large number of ingredients, short production cycle, and large amount of bills to be processed.
For example, 7-11 confirms their order half day before the products are sold, and a fresh food processing plant handles an average of 80 BOMs every day. Airline companies inform caterers of estimated number of passengers 2 hours before departure, and confirm actual numbers 30 minutes before. Different classes on each flight and different meal options require separate BOMs, contribution the more than 300 BOMs handled by caterers every day. What makes it more complicated is the weekly or monthly menu adjustments by airline companies, which will in turn require changes to BOMs.
Before receiving notifications from clients, KACS needs to predict the number of meals required and start production. In the past, BOMs for in-flight meals are calculated and inserted into Excel charts manually. Any change in numbers can cause mistakes in the final results. General Manager Lee says that implementation of Microsoft Dynamics NAV helped reduce errors and improve reaction speed. A 5-minute saving in in-flight caterer's operation time can be turned into extra 5-minute check-in time for airline companies, which is likely to increase sales and thus is material benefits to the caterer's clients. This is also the ultimate goal behind the effort to continually strengthen system operations.
Profit center system enables precise monitoring of costs and waste
KACS handles material, ingredients and final products in-house. For one material or ingredient there are multiple suppliers and thus the number of items is surprisingly large. With Microsoft Dynamics NAV, KACS can input different suppliers for one same product part number, helping to reduce the entries to below 9,000. In addition, in response to the frequent changes and quick movement of ingredients, Microsoft Dynamics NAV can also be used to calculate costs of each batch based on the BOMs and procedures.
What's worth mentioning is, every department of KACS is a profit center. Internal cost allocation is implemented through Microsoft Dynamics NAV, which enables transparency on how each department is using resources of other departments. For instance, cost of assistance to other department will also factor in shouldering of expenses on utility and manufacturing, while transfers of goods between departments are charged by internal prices.
General Manager Lee points out that implementing profit center system through internal cost allocation is the starting point for performance evaluation. In the past, when figures of each department are not clearly divided, it was difficult to distinguish how each department performs. Only when operations of each department are examined separately can waste be identified. For example, if 1kg of raw rice becomes 2kg when cooked, but only 1.8kg is used for meals sold, the reasons for the 0.2kg waste should be identified.
Professional consultancy and system flexibility guarantee successful implementation
With previous unsatisfactory experience with system implementation, KACS exercised special care when evaluating ERP systems, based on the following criteria: compatibility of contents, completeness of functions, level of technology, costs of implementation, contents of presentation, service of supplier and overall performance.Manager Lai Li-Jiao of KACS management department explains that Microsoft Dynamics NAV is positively viewed by users and stand out from other 2 local package software because of its flexibility in application, easiness of data indexing, and convenience of exporting and managing results. Also, the implementation team of K&S Inform is highly professional, fully understands the nature of the client company and also guarantees consistency in its service quality.
Since KACS implemented Microsoft Dynamics NAV in July 2012, the system not only demonstrates benefits of transparency, but also works towards improving reports and accuracy of forecasts as more data are being collected. In addition, efforts are made towards resolving issues arising from manual data processing for in-flight meal production by implementing the system, while also continuing with the already completed fresh food account receivable system. Such efforts are aimed at realizing systemization of payment collection from airline companies.
General Manager Lee concludes, "After computerization and standardization, manpower can be focused on more valuable tasks. For instance finance department will not be limited to account settling. Conducting finance-related forecasts, turning capital into profit are more important things. Although management of an enterprise cannot rely solely on computerization, but every managerial judgment requires support from data and computer information. The key is to incorporate judgment with management."