Microsoft Dynamics NAV & CRM Success Stories
Toshiba Digital Media Network Taiwan (TDMT) Corporation at the Helm of Expanding the Asian Market and Developing Centralized IT Applications
Toshiba Hard Disk Drive Division (HDD) is a division of the Toshiba Storage Products Company under Toshiba Corporation. Toshiba Digital Media Network Taiwan Corporation, under the Toshiba Hard Disk Drive Division, was founded in 2001 and is responsible for the sales and marketing promotion and support of Toshiba hard disk drives and Toshiba External HDDs in Taiwan, China, South and Southeast Asian countries.
TDMT is the best partner to contract manufacturers of notebook computers and local channel distributors, and its mission is to offer the best service and products embodying the highest quality and most leading-edge technology.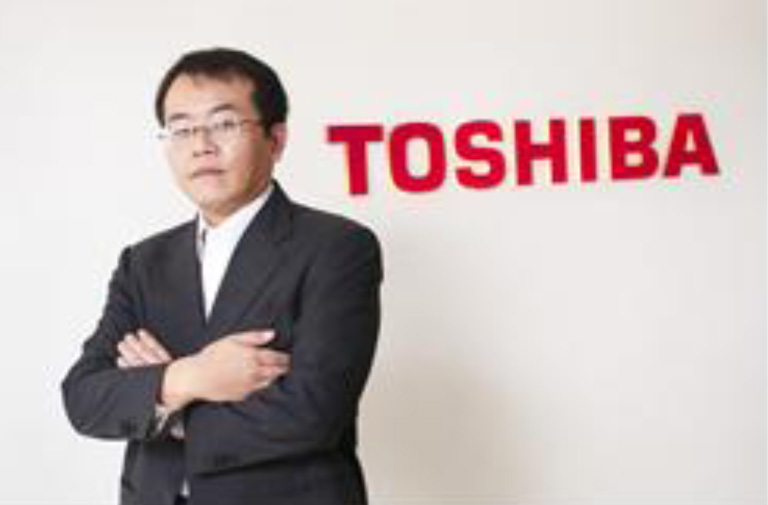 The ERP system used by the Toshiba headquarters is available only in Japanese, and is in itself too vast and complicated that it requires substantial professional knowledge to operation. The system thus does not meet the requirements of its subsidiaries.
Excel spreadsheet was originally used to manage sales at Toshiba, but could no longer meet the requirements as business grew and more kinds of parts were used and in larger numbers. The old system could not support the data inquiry and information exchange among subsidiaries either
Microsoft Dynamics NAV has become Toshiba's standard platform for the ERP system to be deployed among its subsidiaries, as well as a common framework for the implementation of IFRS.
In the eye of globalized enterprises, establishing points of sale and subsidiaries overseas is a necessary investment. The use of IT in the process is key to ensuring optimal investment and operational efficiency. Focusing on cost-effectiveness and cross-national support, Toshiba Corporation of Japan chose Microsoft Dynamics NAV as the standard platform for a common ERP system to be deployed cross its subsidiaries. Such an implementation is also part of the strategy to adapt to the IFRS (International Financial Reporting Standards) that will be gradually applied to the entire group.
Toshiba Digital Media Network Taiwan (TDMT) Corporation under Toshiba Hard Disk Drive (HDD) Division has started using Microsoft Dynamics NAV in the early stages of its establishment. Customized functional modules have also been introduced to other overseas subsidiaries of Toshiba HDD, including those in Shanghai, Hong Kong and Korea, while technical support is provided by the IT department of Toshiba TDMT in Taiwan. The shared and consistent application framework not only accelerates the free flow and timeliness of information across national borders, but also helps achieve savings on time and human resources.
Ten years of successful experience in Taiwan
Toshiba HDD leads the market in the development, design, and manufacturing of 1.8-inch, 2.5-inch Mobile and 2.5-inch, 3.5-inch Enterprise hard disk drives. The company further consolidated its leading position in the market after its acquisition of the hard disk drive division of Fujitsu. In addition to Apple iPods that use 1.8-inch hard disk drives of Toshiba, world-renowned Taiwanese high-tech companies such as Acer and ASUS are also among Toshiba HDD's most important clients.
The organization of Toshiba TDMT started in 2000 and the company was launched in 2001. The company is responsible for the sales and marketing promotion and support of Toshiba hard disk drives in Taiwan, China, Hong Kong, Macau, South and Southeast Asian countries. The 2.5-inch and 3.5 inch hard disk drives are its top two strategic products. Toshiba TDMT is now marking its 10th anniversary with outstanding performance over the past years.
Mr. Minami Yoshinari, board member and general manager of the management department in Toshiba TDMT says, "Sixty percent of Toshiba HDD's total annual revenue of 300 billion yen comes from the Asian market. Therefore our goal now is not only rapid growth, but also expansion in the Asian market with Taiwan as the business center."
The Taiwan subsidiary is not only Toshiba HDD's pioneer in expanding the Asian market, but also a leader in IT applications. Microsoft Dynamic NAV was updated from version 3.7 to 5.0 in 2008, and an entirely new PSI (Purchase, Sales & Inventory) system was developed with the assistance of Knowledge & Strategy Information Co., Ltd. The new system has been introduced to subsidiaries in Shanghai, Hong Kong and Korea.
Advantages in cost management and comprehensive cross-national support
Toshiba Corporation has in fact implemented an ERP package at its headquarters, but as the interface is in Japanese only, the system is too big and complicated, and that smooth operation requires professional knowledge, it is not suitable for subsidiaries. Moreover, there are local regulations to follow in each country the subsidiaries are located in. Therefore, software developed by local service providers or packages designed for cross-national enterprises are better choices.
Mr. Ishizuka Koichi is manager of the Value Network System Planning Division, Information System Department, Visual Product Company, Toshiba Corporation. He says, "Establishing a subsidiary is a big investment. Savings will have to be made on all expenses. The unique franchising model of Microsoft Dynamics NAV helps lower initial acquisition costs, which affects the basis for service contract calculations each year. It is estimated that savings of 16% to 17% can be made in comparison to its competitors."
ERP software of other brands are mostly franchised based on actual user accounts, which means that the purchase of 100 user licenses will be mandatory if there are 100 users in the client company. In contrast, Microsoft Dynamics NAV charges based on the number of users who would log in at the same time. This means if only 50 users at most will be online at a time, the client company would be charged on this basis even if actually 100 users have access to the software. This is how cost-effectiveness is achieved.
Microsoft Dynamics NAV also provides comprehensive support for multiple languages and currencies, which makes it an ideal choice for globalized enterprises. In addition, as Microsoft has a comprehensive global partnership system, Toshiba subsidiaries worldwide could easily find local partners to work with.
Currently, the IT department of Toshiba TDMT is staffed with 5 people and is responsible for supporting subsidiaries in Taiwan, Shanghai, Hong Kong and Korea. Microsoft Dynamics NAV fully demonstrates its advantages in rapid introduction here. The functional modules can be directly introduced to subsidiaries, with assistance to other subsidiaries provided by the Taiwan team, and therefore there is no need for IT expatriates. Such a "centralized" operation model helps eliminate excess or redundant consumption of resources.
Effectiveness of time, manpower and real-time data
Since Microsoft Dynamics NAV was introduced to Toshiba TDMT, savings have been made on time and human resource deployment.General Manager Minami Yoshinari explains that it used to take 10 days to produce financial statements for single accounts and 5 days for consolidated ones, but now it takes only 3 and 2 days respectively.
The new PSI system has also been proven to operate with great effectiveness. Toshiba TDMT used to do sales management with Excel spreadsheet. An employee at the headquarters worked over time nearly everyday on the compilation, entry and processing of data from subsidiaries around the world. However, as business grew, more kinds of parts were used and in larger numbers, and thus workload became too heavy for the Excel spreadsheet to handle.
The customized PSI system developed under Microsoft Dynamics NAV is a one-stop shop. Requirements of purchase, sales management, sales projection and more can be met all at once. In the past, only one user is allowed to input or access data at one time, but now the PSI system supports multiple-user operations. Data processing can now be completed by each respective subsidiary, instead of having to be assigned to a specially employed person. This change saves time and facilitates data sharing, because all subsidiaries have access to the latest data on inventory, purchase, sales and more in the PSI system.
Manager Ishizuka Koichi says "Microsoft Dynamics NAV can be customized and therefore is flexible. Even when upgraded to a new version, the system can still be used under the old, familiar interface. In addition, the use of a common functional module and application concepts facilitates communication and data sharing among subsidiaries."
IFRS Adoption with standardized framework
Microsoft Dynamics NAV。It's worth noting that in addition to Toshiba HDD, subsidiaries under other departments have also started to take up Microsoft Dynamics NAV. For example, Knowledge & Strategy Information Co., Ltd. that provided assistance to Toshiba TDMT will provide the same service to those based in Hong Kong. The service module has already been adopted in Singapore, and the plan to adopt the sales and purchase modules is under way. The Vietnamese market has also been explored for the sales modules, with Malaysia and Indonesia next on the list.
Manager Ishizuka says, "Microsoft Dynamics NAV has become a standard platform for the ERP system to be deployed among Toshiba's subsidiaries. The headquarters plans to establish a framework for subsidiaries to transfer data in a smooth and timely manner. Such implementation also prepares the company for the adoption of the IFRS."
Toshiba is a globalized business group very large in scale. The astonishing number of subsidiaries requires phased adoption of IFRS. Currently 700 subsidiaries have been chosen to be the first batch to adopt IFRS, with the completion time expected to fall in 2013.
General Manager Minami says, "The processing of data and information is an operation of utmost importance. Processed data need to be completely reliable. Especially in a business group the scale of Toshiba Corporation, the processing of financial reports must be transparent. Microsoft Dynamics NAV is customizable, flexible, multi-functional, and allows for simple establishment of a common process."